Tina Rosner-Merker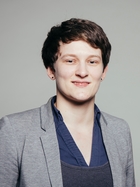 Lecturer
Tina Rosner-Merker, M.A.
Faculty of Humanities, Social Science & Education
Institute II Political Science

Zschokkestr. 32, 39104 Magdeburg, G40-304
Sprechzeiten: Until further notice via telephone / video etc. after arrangement via mail

twitter: t_rosner_m
Since April 2018: Lecturer and Research Assistant at the Chair for International Relations, Otto-von-Guericke University Magdeburg
Since 07/2018 she is member of the editorial board of the peer-reviewed journal ZeFKo Studies in Peace and Conflict
2013-2018 M.A. in Social Sciences, Otto-von-Guericke Universität Magdeburg
2012 Erasmus Exchange Program,Prifysgol Bangor University, University of Wales, Great Britain
2011 – 2017 elected students member of the faculty council, faculty of human sciences
2010-2013 B.A. in Social Sciences, Otto-von-Guericke Universität Magdeburg
Since March 2020 Tina Rosner-Merker ist elected as spokesperson of the early career group of International Relations researchers within the German Association of Political Science (DVPW). Previously she was deputy spkokesperson from 2018 to 2020.
recognition
secession
statehood in change
constructivist theories in International Relations
de facto states
Conference Papers & Posters
Rosner-Merker, Tina (2020): Zum Ausdruck von (Nicht-)Anerkennung durch internationale Organisationen. Vergleichende Analyse von UN und AU am Beispiel der Demokratischen Arabischen Republik Sahara. paper presented at IB-Sektionstagung 2020, IB-Sektion in der DVPW. 07.-09. Oktober 2020. Freiburg | online-Format.
Rosner-Merker, Tina (2020): Bringing Practice into the Debate on (De-)Recognition in International Relations. Poster presented at 14. IB-Nachwuchstagung. Nachwuchsgruppe der IB-Sektion der DVPW. 11.-13. März 2020. Tutzing.
Rosner, Tina (2019): (Non-)Denial of Recognition. Reflections on a missing Debate on Recognising statehood. Paper presented at 13th Pan-European Conference on International Relations. A Century of Show and Tell: The Seen and the Unseen of IR Sofia University 'Sveti Kliment Ohridski', Bulgaria, 11-14 September 2019.
Blog Posts
Rosner-Merker, Tina und Konrad, Patricia (2020): Interaktive Elemente in der Online-Lehre – Ein kurzer Einblick. Blog des Arbeitskreis Hochschullehre der DVPW. Veröffentlicht am 20.10.2020 (here).
Rosner, Tina (2019): Innovation in der Lehre: Standortübergreifendes Ringseminar zu Konfliktanalyse überwindet digital Universitäts- und Landesgrenzen. Gastbeitrag auf dem Blog des Hochschulforums Digitalisierung. Veröffentlicht am 31.05.2019 (here).
Presentations
05/2020 "Interaktive Elemente in der Onlinelehre - Was, wie und warum?", 14.05.2020, 5. Zoom-Workshop der DVPW, mit Patricia Konrad und Dr. Gabi Schlag, Webinar, Aufzeichnung unter: https://www.dvpw.de/service/digitale-lehre/zoom-workshops/
11/ 2019 "In der Praxis 2: Standortübergreifendes Ringseminar 'Security-Development-Migration Nexus in Subsahara Afrika'", 13.11.2019; iDa-Seminar "Digitalisierung und Curriculumsentwicklung", Internationale DAAD Akademie, 12.-13.11.2019, Bonn
Roundtable
2020 "Mehrklassengesellschaft? Die Ausdifferenzierung von Karrierewegen in der (deutschen) IB" Organisation und Teilnehmende. IB-Sektionstagung 2020, IB-Sektion in der DVPW. 07.-09. Oktober 2020. Freiburg | online-Format.
Winter term 2020/21
Summer term 2020
Winter term 2019/20
Summer term 2019
EISA (European International Studies Association)