Peace and Conflict Studies Masters Programme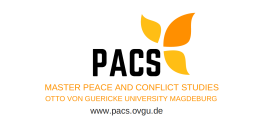 Interdisciplinarity. Internationality. Diversity. Critical Research...
...these are the cornerstones of the Peace and Conflict Studies (PACS) Master's programme at the Otto-von-Guericke University Magdeburg. Aside from its core areas in political science and sociology, the degree offers courses in various other disciplines, such as philosophy, history, journalism, or cultural studies. For this reason, students of many disciplines and with diverse professional experience feel at home in this Master's programme.
Participants from all parts of the world, including Latin America, Africa, and Asia, contribute significantly to the diversity of the programme. Many of them are supported by scholarships of the German Academic Exchange Service (DAAD).
The PACS Master programme promotes the development of scientific research, soft skills, and practical work experience through workshops and training, whereby close cooperation between students and teachers enables a very personal exchange. Furthermore, students can gain practical experience and additional skills that will be useful for their future career through an obligatory internship. This also brings together current and future peace and conflict researchers and reduces the gap between theory and practice in a less formal framework.
The PACS Master programme prepares students to reach excellence both in academia and the job market - in Germany and abroad. Our graduates are found in the media, in local and international think tanks, NGOs, consultancy enterprises and multinational companies.
Interested in becoming part of the network?
Further information on the PACS study programme and the admission can be found on this website.
For questions you can also write an E-mail to: .