Apply now for PACS!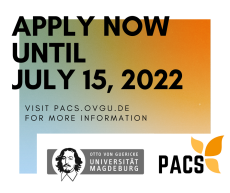 04.05.2022 -
Starting from the winter term 2022/2023, you can learn how to implement peaceful solutions in areas of violent conflicts and acquire detailed knowledge of theories and methods of peace and conflict studies with students from around the world while pursuing a Master's programme in Germany.
Apply now and become part of the #PACScommunity!
▶️ Look through our website for further information about the PACS programme, it's content and requirements as well as the admission process.
✏️ Please feel free to contact us at any time! Our student coordinators will be glad to answer all your questions via .