Application Procedure
Deadline: 15th of July (in the year of planned enrolment)

Due to the current situation caused by Covid-19 the application period has been extended until the 20th of August 2020

Application via OvGU Online Bewerbungen (national degree) or uni-assist (foreign degree)
Information on the entry requirements for the programme can be found here.
Information on the application procedure via OvGU Online Bewerbungen can be found here.
Information on the documents you have to hand in as a hard copy can be found here.
Checklist for your application
Necessary documents to upload to Otto von Guericke University Magdeburg or uni-assist (Check the uni-assist website for a detailed descripiton of the required documents)
Educational certificate

Bachelor's certificate (or proof of similar degree) in original language as well as (officially translated) in English or German
You also need to attach your university's grading system

Proof of at least 180 ECTS
Proof of at least 30 ECTS within the field of social science
Proof of English language proficiency on C1-level:

Either via an official language certificate (UNIcert, IELTS, IELTS Indicator, Cambridge, TOEFL, TOEFL iBT® Special Home Edition, TOEIC or telc)
Or via a high school or Bachelor degree taught in English (in Australia, Great Britain, New Zealand, the USA, Ireland or Canada; restrictions apply)

Proof of relevant academic or professional experience in a foreign country of 3 months or more
Letter of motivation (3 pages in English)
CV (in English)
Roadmap for your application via uni-assist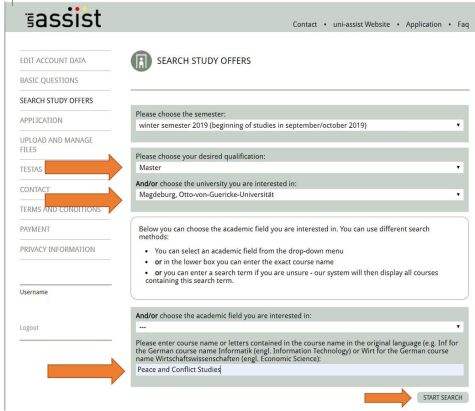 Step 1: Assemble your documents
Obtain certified copies of your documents and certificates (all documents that are not in German or English need to be officially translated)
Make copies of your documents and upload them to the uni-assist online portal
Step 2: Submit your application online
Register with the online portal
Submit all online applications electronically.
Step 3: Pay the processing fees
Uni-assist is unable to process your application before you have paid the handling fee.
Step 4: Send all certified documents as hard copies to:
uni-assist e.V. 11507 Berlin GERMANY
Step 5: Finish all of this before July 15th